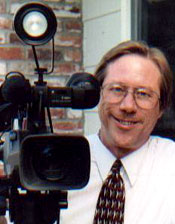 Creative Light Productions has been providing elegant images since 1976. We offer fine portraits and videos by David Ludwig–winner of local and national awards for photography and documentary.
Mr. Ludwig, owner of Creative Light Productions, has been a wedding photographer since 1976 and has won numerous gold and blue ribbons from the Professional Photographers of America Association (1989 to present). We offer both studio and on-location photography. Glamour makeovers are also available.
In addition to photography, Mr. Ludwig has fifteen years of national broadcast video credits (PBS and CBS) and local credits for broadcast, corporate, educational, and community agencies. He has received many awards for his video works including six Sadie Awards in 1990, 1992 and 1995 (including silver and gold certificates) and the Video Free America Production Award for Joy of Ballooning. He has also received three video wedding awards from the Professional Photographers of the Redwood Empire.
Mr. Ludwig has received a national award from CPB Public Television for the music program, Intillimani in Concert. Recently, a documentary produced by Mr. Ludwig about the Pomo Indians of Northern California, Pomo Basketweavers, has distributed nationally on PBS television and won a national award in 1996. The award was for best video documentary at the American Indian film festival. Mr. Ludwig has produced numerous other programs for PBS television including the weekly music series, Music Tonight.
Professional Videographers of the North Bay (PVNB)
Professional Photographers of America (PPA)
Bay Area Video Coalition (BAVC)
Professional Photographers of the Redwood Empire (PPRE)
100 Professional Center Drive
Suite 112, Rohnert Park, CA 94928
Mail: 1606 Woodhue. Ave., Santa Rosa, CA 95403
Local (707) 527-6004
Cell Phone (707) 318-2064
E-mail  dlcreativelight@gmail.com
KRCB-TV (PBS-Rohnert Park), KFTY-TV (Santa Rosa), KPIX-TV (San Francisco), Sonoma State University, National Right to Read Foundation, California Indian Basketweavers Association, Sonoma County Fair, DeMeo & DeMeo, Attorneys, Kreysler & Associates, Gundluch Bunshu Winery, The Medical Network, Disney Productions, American Language Institute, Sonoma Business Magazine, Foster & Gallagher, Santa Rosa City Schools, Santa Rosa Police Dept., Oakland Museum, and many small businesses.
Creative Light Productions
100 Professional Center Drive
Suite 112, Rohnert Park,
CA 94928
Creative Light Productions proudly serves Sonoma County including:
Rohnert Park
Santa Rosa
Sebastopol
Petalum
Cotati
Contact Details
100 Professional Center Drive
Suite 112, Rohnert Park, CA 94928
Local (707) 527-6004
Cell Phone (707) 318-2064
E-mail dlcreativelight@gmail.com