David Ludwig has been a portrait photographer since 1976 and operating a studio in Rohnert Park since 1990. He has won many gold and blue ribbons for portraiture from the Professional Photographers of the Redwood Empire. He is also a member of the Professional Photographers of America.
"I provide a wide variety of images for my customers with portrait sittings that are fun and creative. I really love to be creative by blending the various poses with the environment, lighting and camera exposure."
We offer both studio and on-location photography as well as color or black and white images. We offer both digital and traditional print photography.
Photo retouching is available. Makeovers and hairstyling are also available by Wanda Ludwig, a licensed cosmetologist. Prices for this service start at $45.00.
Graduation and Glamour Portraits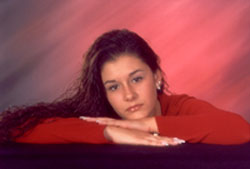 Portrait sitting fees start at $65.00 and high school seniors get a free photo for the yearbook. Please inquire further for pricing on photo print sizes and packages. We personalize your portraits by consulting with you in regards to poses, clothing changes, backdrops, lighting and props. David as the photographer will always try to provide a wide variety of different images.
Your senior year is one of the most exciting milestones of your life. We recognize the importance of preserving the memory with a Senior Portrait. David will take the time to work with you and create a reflection of your individuality at its best. Drape or tuxedo are also available for your portraits.
We also offer glamour photography for that "Hollywood" look. David will set up the special lighting and background while Wanda provides the makeover and/or hairstyling for a variety of glamour poses. We can also provide romantic portraits for lovers.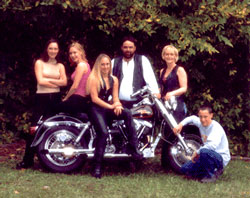 Family portraits are popular for those special occasions and important for documenting the changes with the family members over the years. David is very creative with posing family groups which can be as large as 20 people. Family groups can be photographed in studio or at an outdoor location such as the local parks, the ocean, or at the home setting. David offers consultation about scenic backgrounds, color coordination, and props such as in David's well known picnic scenes.
"David was great. He took the time to get the kind of poses I wanted and used a variety of different backgrounds. The portrait session was fun and I felt relaxed. I got high quality portraits at a reasonable price."
– Brittany Brown, Elsie Allen High
"The Christmas cards of our family worked out perfectly and I love my family wall portrait that I have hanging at my office. David, you did a great job. Thanks"
– Tim Swift and family
100 Professional Center Drive
Suite 112, Rohnert Park, CA 94928
Local (707) 527-6004
Cell Phone (707) 318-2064
E-mail  dlcreativelight@gmail.com
KRCB-TV (PBS-Rohnert Park), KFTY-TV (Santa Rosa), KPIX-TV (San Francisco), Sonoma State University, National Right to Read Foundation, California Indian Basketweavers Association, Sonoma County Fair, DeMeo & DeMeo, Attorneys, Kreysler & Associates, Gundluch Bunshu Winery, The Medical Network, Disney Productions, American Language Institute, Sonoma Business Magazine, Foster & Gallagher, Santa Rosa City Schools, Santa Rosa Police Dept., Oakland Museum, and many small businesses.
Professional Videographers of the North Bay (PVNB)
Professional Photographers of America (PPA)
Bay Area Video Coalition (BAVC)
Professional Photographers of the Redwood Empire (PPRE)
Wall portraits, photo prints, on-line albums, photo video slide shows.
Creative Light Productions
100 Professional Center Drive
Suite 112, Rohnert Park,
CA 94928
Creative Light Productions proudly serves Sonoma County including:
Rohnert Park
Santa Rosa
Sebastopol
Petalum
Cotati
Contact Details
100 Professional Center Drive
Suite 112, Rohnert Park, CA 94928
Local (707) 527-6004
Cell Phone (707) 318-2064
E-mail dlcreativelight@gmail.com