Cinematic Wedding Videos in Santa Rosa, CA: Capturing Love in Style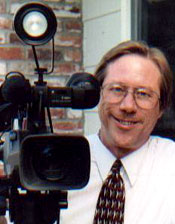 David Ludwig has a background in broadcast television, boasting a decade-long career with PBS, where he served as a producer, director, editor, and camera operator. He's no stranger to accolades, having received numerous awards for his video programs and earning recognition as a highly accomplished wedding videographer. David proudly holds membership in both the Professional Videographers of the North Bay and the Bay Area Video Coalition. 
Weddings hold a special place in David's heart, and he approaches them with a level of expertise that comes from years in the field. His wedding videography services in Santa Rosa, CA, offer one or two-camera coverage of your special day. The resulting footage can be presented in its authentic, raw form or expertly edited into a cinematic wedding video in Santa Rosa, CA, complete with mesmerizing special effects that add a touch of magic to your love story. 
At Creative Light Productions, we also offer enchanting "love stories" and captivating "photo montage presentations" to complement your wedding memories. 
David's commitment to quality is unwavering. Our video services uphold broadcast quality standards, encompassing multi-camera production, computerized editing, graphics, special effects, digital video capabilities, tape duplication, photo-to-video-to-DVD transfers, scriptwriting, and rough-cut editing. From the initial concept to the final product, David and his team will transform your vision into reality. 
For couples seeking a comprehensive wedding videography experience in Santa Rosa, CA, our full-day broadcast quality video package, priced at $1650.00, is the perfect choice. This package features one camera and meticulous editing tailored to your preferences, with the inclusion of your favorite music to craft a compelling wedding video that beautifully captures your special day. 
For those who are budget-conscious, Creative Light Productions offers coverage with a dedicated staff videographer, with camcorder packages starting at just $640.00 for a half-day. Rest assured, all our videographers are not only skilled but also polite, discreet, and dedicated to providing efficient yet unobtrusive video coverage. They are well-versed in in-camera editing techniques to ensure a seamless flow in your wedding video if desired. 
Contact us to get a firsthand look at the artistry and quality of our work, demo video presentations on DVD are readily available upon request. Choose David Ludwig and his team at Creative Light Productions for your wedding videography needs in Santa Rosa, CA, and entrust your cherished memories to the hands of experts who understand the power of storytelling through cinematic wedding videos.  
"The video came out beautifully. We truly appreciate the hard work you put into making it a wonderful memory for us"
– Jen & Lee Stephens (Santa Rosa)
"Thank you so much for taking the video of our wedding day. Loree and I will always be grateful for your contribution. We will always treasure your efforts to assist us in having the wedding of our dreams. You did a beautiful job. The video is fantastic! We really think that you are a great videographer. We don't think that anyone could have captured the event any better than you did. Thanks to you, we will always have a very vivid memory of our wedding day. Your professional effort has led to many compliments regarding your work. We truly appreciate your patience and motivation in the creation of our wedding day video. Thanks again. Best wishes."
– Steve and Loree Holmes
The Johnson Wedding Ceremony
Dan
&

Ashley's Wedding Reception
100 Professional Center Drive
Suite 112, Rohnert Park, CA 94928
Local (707) 527-6004
Cell Phone (707) 318-2064
E-mail  dlcreativelight@gmail.com
KRCB-TV (PBS-Rohnert Park), KFTY-TV (Santa Rosa), KPIX-TV (San Francisco), Sonoma State University, National Right to Read Foundation, California Indian Basketweavers Association, Sonoma County Fair, DeMeo & DeMeo, Attorneys, Kreysler & Associates, Gundluch Bunshu Winery, The Medical Network, Disney Productions, American Language Institute, Sonoma Business Magazine, Foster & Gallagher, Santa Rosa City Schools, Santa Rosa Police Dept., Oakland Museum, and many small businesses.
Professional Videographers of the North Bay (PVNB)
Professional Photographers of America (PPA)
Bay Area Video Coalition (BAVC)
Professional Photographers of the Redwood Empire (PPRE)
Creative Light Productions
100 Professional Center Drive
Suite 112, Rohnert Park,
CA 94928
Creative Light Productions proudly serves Sonoma County including:
Rohnert Park
Santa Rosa
Sebastopol
Petalum
Cotati
Contact Details
100 Professional Center Drive
Suite 112, Rohnert Park, CA 94928
Local (707) 527-6004
Cell Phone (707) 318-2064
E-mail dlcreativelight@gmail.com